HCD Homemade Cloth Diaper Detergent #houstoncloth
A while back, one of our admins, Maria, introduced us to the homemade cloth diaper detergent that works best for her.  Soon after, we all feel in love with it, and we began sharing the recipe with our group.  I'm not sure here it originated, but I've seen it in several places online.  We've decided to post it here so that our members can find it easily!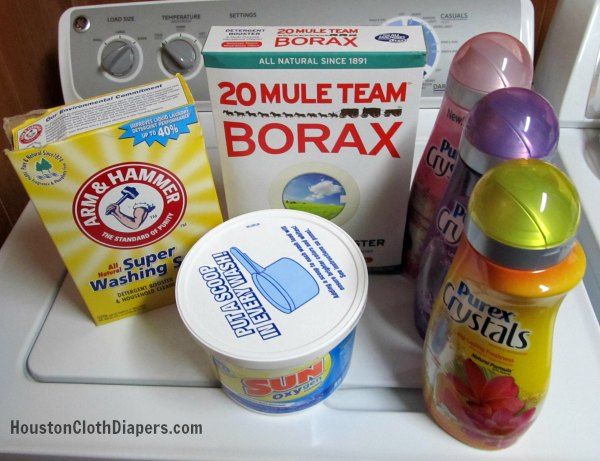 2 tablespooons per load (56 loads) – use this amount for HE, Front Loaders, and Top Loaders
2 cups Borax
2 cups Washing Soda
2 cups Oxygen Bleach (Oxiclean or generic)
1/2 cup (or however much you'd like) Purex Crystals (optional)
I've decided to experiment with different Purex Crystals, but it's completely optional!  Many people prefer the purple lavender scent, but I started switching them out and using different amounts each time I make my detergent!  Word of advice… the blue kind STINKS!  I'd make sure you really like it before buying it!
We've found several variations of this online, and one is that people add Fels Naptha.  I don't because I've found that it tends to build up in my machine as well as cause buildup in my diapers.  It may not for you, but it does for me.
We've also seen where people add baking soda.  The only thing we can think is that it actually makes more detergent, and it's cheap, so it stretches your dollar and the amount of loads per batch.
When washing your diapers, no matter the type of detergent you use, make sure that you're using plenty of water and that you're rinsing the diapers thoroughly!
Happy washing!